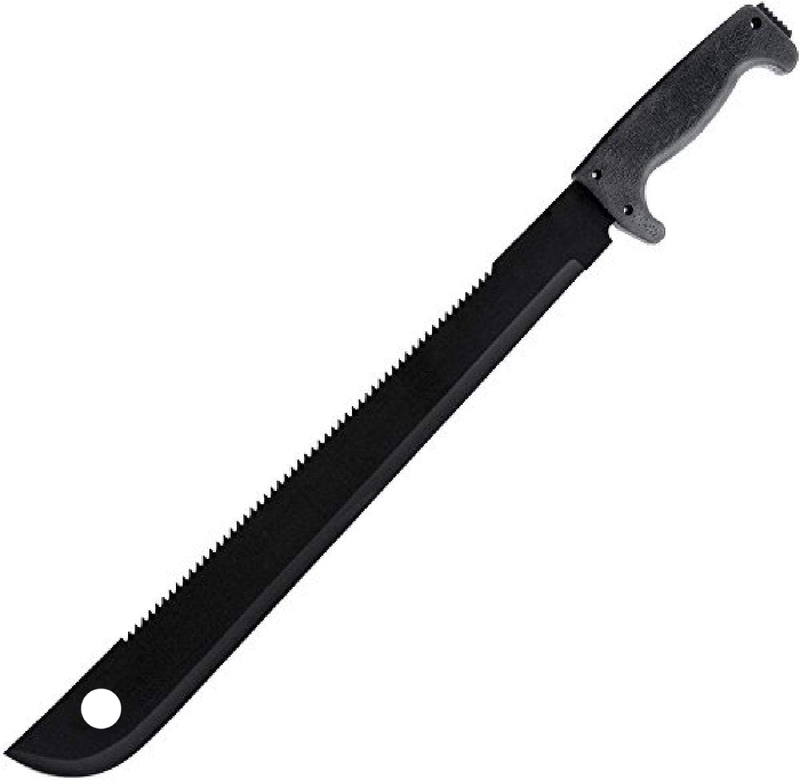 Begins from $59.
Available in 12 Blade Steels.
Full Tang, 3/16" thick, Sheath Included
BLADE MATERIAL VARIATIONS
8Cr13,
Carbon Steel,
D2 Steel,
Damascus,
High Carbon Steel (440C),
Spring Steel,
Ultra High Carbon Steel.
DISTINCTIONS
Hand forged
High Polish
Full Polish
Tempered
Razor Sharp
DIMENSIONS
Total: 18"
Blade: 13"
Handle: 5"
MATERIALS
Blade: See "Blade Material" Variation
Handle: Rubber
Sheath: See "Sheath" Variations
Item in PICTURE
Blade Material: D2 Steel
NOTE
•Please Read the "Item in Picture" part of item description carefully.
NOMENCLATURE

Stainless Steel Bushcraft Machete & Axe
8Cr13 Steel Bushcraft Machete & Axe
Carbon Steel Bushcraft Machete & Axe
420J2 Steel Bushcraft Machete & Axe
Damascus Steel Bushcraft Machete & Axe
D2 Steel Bushcraft Machete & Axe
440C Steel Bushcraft Machete & Axe
Spring Steel Bushcraft Machete & Axe
1095 Bushcraft Machete & Axe
High Carbon Steel Bushcraft Machete & Axe
Japanese High Carbon Steel Bushcraft Machete & Axe
Ultra High Carbon Steel Bushcraft Machete & Axe
Japanese SKD11 Steel Bushcraft Machete & Axe
Battle Ready Bushcraft Machete & Axe
Full Tang Bushcraft Machete & Axe
Functional Bushcraft Machete & Axe
A L T E R N A T I V E L Y
Stainless Steel Camping Machete & Knife
8Cr13 Steel Camping Machete & Knife
Carbon Steel Camping Machete & Knife
420J2 Steel Camping Machete & Knife
Damascus Steel Camping Machete & Knife
D2 Steel Camping Machete & Knife
440C Steel Camping Machete & Knife
Spring Steel Camping Machete & Knife
1095 Camping Machete & Knife
High Carbon Steel Camping Machete & Knife
Japanese High Carbon Steel Camping Machete & Knife
Ultra High Carbon Steel Camping Machete & Knife
Japanese SKD11 Steel Camping Machete & Knife
Battle Ready Camping Machete & Knife
Full Tang Camping Machete & Knife
Functional Camping Machete & Knife
A L T E R N A T I V E L Y
Stainless Steel Hunting Machete with Sheath
8Cr13 Steel Hunting Machete with Sheath
Carbon Steel Hunting Machete with Sheath
420J2 Steel Hunting Machete with Sheath
Damascus Steel Hunting Machete with Sheath
D2 Steel Hunting Machete with Sheath
440C Steel Hunting Machete with Sheath
Spring Steel Hunting Machete with Sheath
1095 Hunting Machete with Sheath
High Carbon Steel Hunting Machete with Sheath
Japanese High Carbon Steel Hunting Machete with Sheath
Ultra High Carbon Steel Hunting Machete with Sheath
Japanese SKD11 Steel Hunting Machete with Sheath
Battle Ready Hunting Machete with Sheath
Full Tang Hunting Machete with Sheath
Functional Hunting Machete with Sheath
POLICIES & THEIR LINKS
Shipping & Delivery (www.hsbladesent.com/pages/shipping-delivery-1)
General Instructions (https://www.hsbladesent.com/pages/general-instructions-and-care)
Returns, Exchanges & Refunds (www.hsbladesent.com/pages/returns-exhcanges)
Social Links

Facebook (www.facebook.com/hsbladesent)
Instagram (www.instagram.com/hsbladesent)
Twitter (www.twitter.com/hsbladesent)
Pinterest (www.pinterest.com/hsbladesenterprise)