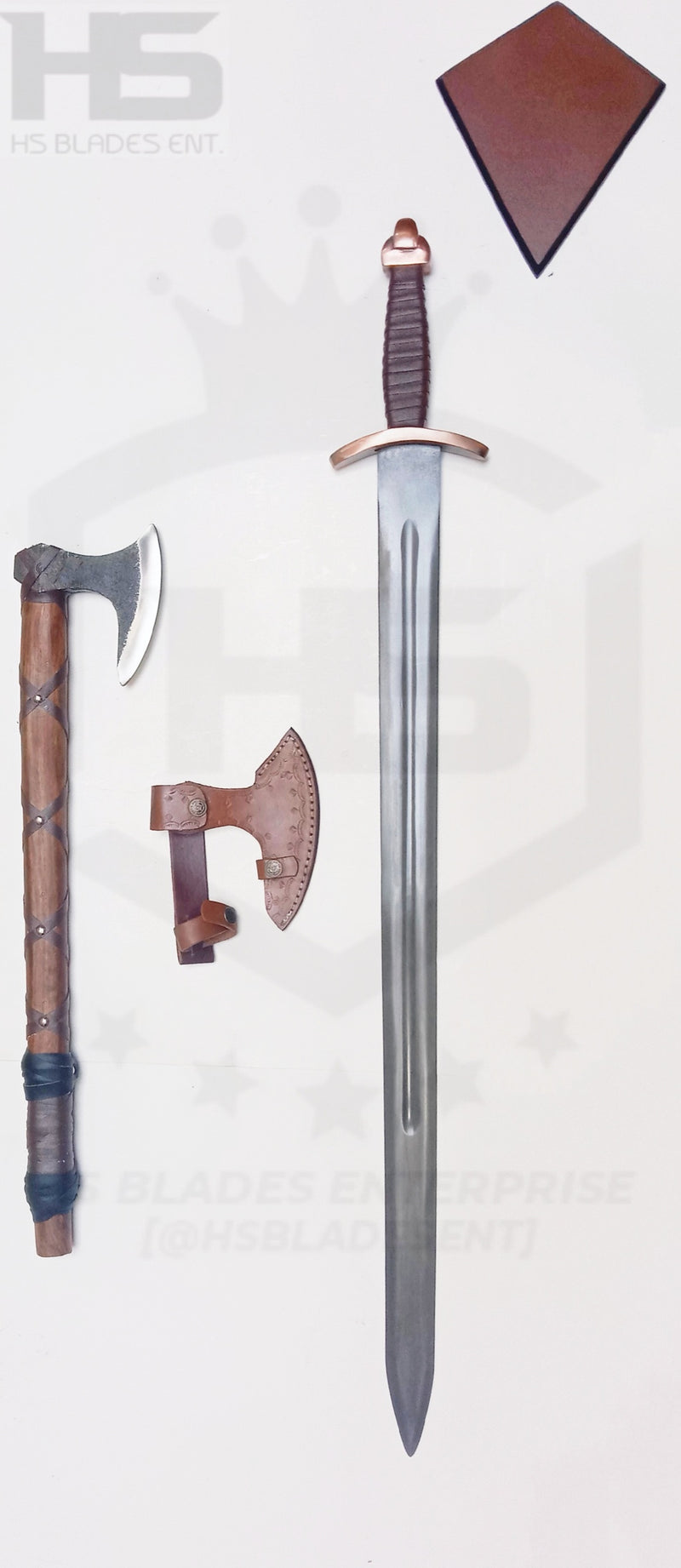 Viking Sword
The Vikings Set of Ragnar Axe & Lagertha Sword for just $160 (Available in Standard & Battle Ready Versions)
BLADE MATERIAL VARIATIONS
Stainless Steel
Chrome Steel
Carbon Steel
D2 Steel
440C
Spring Steel
Ultra High Carbon Steel

MATERIALS
•Axe
Blade: Chromed Steel/Carbon Steel/Damascas
Handle: Ash Wood, Rexion

•Sword
Blade: Chromed Steel/Carbon Steel/Damascus
Handle: Casted Metal, Rexion

Sheath: Leather
Scabbard: Wood,Rexion


DIMENSIONS
•Axe
Overall: 25"
Width: 5.25"
Cutting Edge: 6.25"

•Sword
Overall: 37"
Blade: 30"
Handle: 7"

NOTES
•Axe is available only in Cr, Carbon & Damascus Steels. In Combination with HC & Ultra HC Steel Swords, Axe will be of Carbon Steel.
•Plaques & Sheath may differ from that of in pictures.
•Swords/products are NOT OFFICIAL replicas.
POLICIES & THEIR LINKS
Shipping & Delivery (www.hsbladesent.com/pages/shipping-delivery-1)
General Instructions (https://www.hsbladesent.com/pages/general-instructions-and-care)
Returns, Exchanges & Refunds (www.hsbladesent.com/pages/returns-exhcanges)
Social Links

Facebook (www.facebook.com/hsbladesent)
Instagram (www.instagram.com/hsbladesent)
Twitter (www.twitter.com/hsbladesent)
Pinterest (www.pinterest.com/hsbladesenterprise)