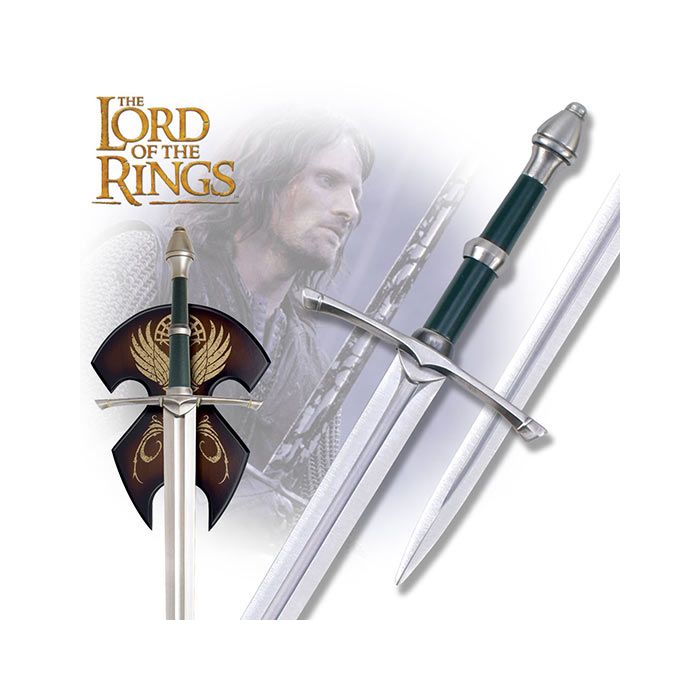 LOTR Replica
44" Aragorn's Strider Ranger Sword from Lord of The Rings in just $99
DIMENSIONS
Overall: 42"
Blade: 32"
Handle: 10"
Width: 9.5"
MATERIALS
Blade: See Blade Material Variation
Handle: Casted Metal, Wood, Rexion
Sheath: Leather
Scabbard: Wood & Rexion
Plaque: Wood
VARIATIONS
Color: Green & Black
Blade Material
Accessories Combination
Item in Title PICTURE
Blade: D2 Steel
Color: Black
Accessories: Knife+Scabbard
NOTE:
•Please mention the color you'd like to have.
•Plaques may differ from those of in the pictures.
•Please Read the "Item in Picture" part of item description carefully.
•Swords/products are NOT OFFICIAL replicas.
POLICIES & THEIR LINKS
Shipping & Delivery (www.hsbladesent.com/pages/shipping-delivery-1)
General Instructions (https://www.hsbladesent.com/pages/general-instructions-and-care)
Returns, Exchanges & Refunds (www.hsbladesent.com/pages/returns-exhcanges)
Social Links

Facebook (www.facebook.com/hsbladesent)
Instagram (www.instagram.com/hsbladesent)
Twitter (www.twitter.com/hsbladesent)
Pinterest (www.pinterest.com/hsbladesenterprise)