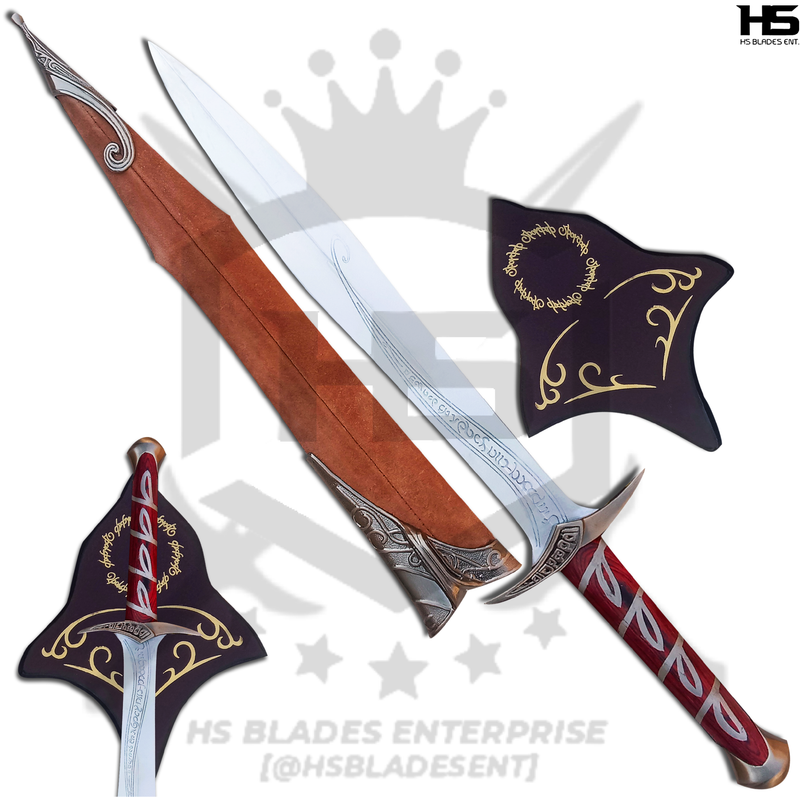 LOTR Replica
22" Sting Sword of Frodo Baggins in just $69 (Battle Ready D2 Steel & Spring Steel Versions Available) with Plaque & Scabbard from Lord of The Rings-LOTR Swords
From the enchanting tales of Middle-Earth, Sting Sword finds its exciting origin from the legendary work of J.R.R Tolkien Lord of The Rings and The Hobbit. Forged by elves, this sword first belonged to Bilbo Baggins, who then gifted it to Frodo Baggins to complete his mission to Mount Doom for destroying the One Ring of Sauron and save The Kingdoms of men, elves, dwarves and hobbits from the wrath of the Evil, along with Aragorn, Boromir, Legolas, Gimli and Samwise, collective called The Fellowship of The Ring. The sword used to glow blue in the presence of Orcs, Goblins and Golem.
Frodo's sword, which was formally Bilbo's Sword is 22" long, with elvish inscription on the blade. The hilt is adorned with the likeness of an Elven leaf. We offer this sword in 11 blade steel , with base variants starting from just $69. The sword features a wooden plaque for LOTR fans to hang it proudly showcase their enthusiasm. Scabbard is meticulously designed to provide both protection for the blade and a showcase for its exquisite craftsmanship. The scabbard features its own Elven designs, creating a harmonious ensemble with the sword.

BLADE MATERIAL VARIATIONS
Stainless Steel,
8Cr13,
Carbon Steel,
420J2,
Damascus,
D2,
440C,
Spring Steel,
Japanese High Carbon Steel,
Ultra High Carbon Steel,
Japanese SKD11 Steel.
DISTINCTIONS
Handmade
Handforged
High Polish
Elvish Inscribed
Vast Material Variations
Personalization Available
DIMENSIONS
Overall: 22"
Blade: 16"
Handle: 6"
MATERIALS
Blade: See "Blade Material" Variations
Handle: Casted Metal, Intimate Gems
Plaque: Silk Screen Printed Wood
Scabbard: Leather, Casted Metal
NOTE
NOT an official replica.
Accessories are escorted as described above.

ITEM NOMENCLATURE
Stainless Steel Sting Sword of Frodo Baggins from Lord of The Rings
-
LOTR Swords
8Cr13 Steel
Sting Sword of Frodo Baggins from Lord of The Rings-LOTR Swords
Carbon Steel
Sting Sword of Frodo Baggins from Lord of The Rings-LOTR Swords
420J2
Sting Sword of Frodo Baggins from Lord of The Rings-LOTR Swords
Damascus Steel
Sting Sword of Frodo Baggins from Lord of The Rings-LOTR Swords
D2 Steel
Sting Sword of Frodo Baggins from Lord of The Rings-LOTR Swords
440C Steel
Sting Sword of Frodo Baggins from Lord of The Rings-LOTR Swords
Spring Steel 
Sting Sword of Frodo Baggins from Lord of The Rings-LOTR Swords
Japanese High Carbon Steel
Sting Sword of Frodo Baggins from Lord of The Rings-LOTR Swords
Ultra High Carbon Steel
Sting Sword of Frodo Baggins from Lord of The Rings-LOTR Swords
Japanese SKD11 Steel
Sting Sword of Frodo Baggins from Lord of The Rings-LOTR Swords
Handmade Sting Sword of Frodo Baggins from Lord of The Rings-LOTR Swords
Functional Sting Sword of Frodo Baggins from Lord of The Rings-LOTR Swords
Real Sting Sword of Frodo Baggins from Lord of The Rings-LOTR Swords
Hand Forged Sting Sword of Frodo Baggins from Lord of The Rings-LOTR Swords
Full Tang Sting Sword of Frodo Baggins from Lord of The Rings-LOTR Swords
A L T E R N A T I V E L Y
Stainless Steel Frodo Baggins Sword with Plaque/Scabbard (Sting) from Lord of The Rings-LOTR Sword
8Cr13 Steel Frodo Baggins Sword with Plaque/Scabbard (Sting) from Lord of The Rings-LOTR Sword
Carbon Steel Frodo Baggins Sword with Plaque/Scabbard (Sting) from Lord of The Rings-LOTR Sword
420J2 Steel Frodo Baggins Sword with Plaque/Scabbard (Sting) from Lord of The Rings-LOTR Sword
Damascus Steel Frodo Baggins Sword with Plaque/Scabbard (Sting) from Lord of The Rings-LOTR Sword
D2 Steel Frodo Baggins Sword with Plaque/Scabbard (Sting) from Lord of The Rings-LOTR Sword
440C Steel Frodo Baggins Sword with Plaque/Scabbard (Sting) from Lord of The Rings-LOTR Swords
Spring Steel Frodo Baggins Sword with Plaque/Scabbard (Sting) from Lord of The Rings-LOTR Sword
Japanese High Carbon Steel Frodo Baggins Sword with Plaque/Scabbard (Sting) from Lord of The Rings-LOTR Sword
Ultra High Carbon Steel Frodo Baggins Sword with Plaque/Scabbard (Sting) from Lord of The Rings-LOTR Sword
Japanese SKD11 Steel Frodo Baggins Sword with Plaque/Scabbard (Sting) from Lord of The Rings-LOTR Sword
Handmade Frodo Baggins Sword with Plaque/Scabbard (Sting) from Lord of The Rings-LOTR Sword
Functional Frodo Baggins Sword with Plaque/Scabbard (Sting) from Lord of The Rings-LOTR Sword
Full Tang 
Baggins Sword with Plaque/Scabbard (Sting) from Lord of The Rings-LOTR Sword
Real 
Baggins Sword with Plaque/Scabbard (Sting) from Lord of The Rings-LOTR Sword
Hand Forged 
 GENERAL NOMENCLATURE
Stainless Steel Lord of The Rings Swords/Lord of The Rings Replica Sword
8Cr13 Steel Lord of The Rings Swords
/Lord of The Rings Replica Sword
Carbon Steel
Lord of The Rings Swords
/Lord of The Rings Replica Sword
420J2 Steel Lord of The Rings Swords
/Lord of The Rings Replica Sword
Damascus Steel Lord of The Rings Swords
/Lord of The Rings Replica Sword
D2 Steel Lord of The Rings Swords
/Lord of The Rings Replica Sword
440C Steel Lord of The Rings Swords
/Lord of The Rings Replica Sword
Spring Steel Lord of The Rings Swords
/Lord of The Rings Replica Sword
Japanese High Carbon Steel Lord of The Rings Swords
/Lord of The Rings Replica Sword
Ultra High Carbon Steel Lord of The Rings Swords
/Lord of The Rings Replica Sword
Japanese SKD11 Steel Lord of The Rings Swords
/Lord of The Rings Replica Sword
Battle Ready Lord of The Rings Swords
/Lord of The Rings Replica Sword
Functional Lord of The Rings Swords
/Lord of The Rings Replica Sword
A L T E R N A T I V E L Y
Stainless Steel The Hobbit Swords/The Hobbit Replica Sword
8Cr13 Steel The Hobbit Swords
/The Hobbit Replica Sword
Carbon Steel 
The Hobbit Swords/The Hobbit Replica Sword
420J2 Steel The Hobbit Swords
/The Hobbit Replica Sword
Damascus Steel
The Hobbit Swords
/The Hobbit Replica Sword
D2 Steel The Hobbit Swords
/The Hobbit Replica Sword
440C Steel The Hobbit Swords
/The Hobbit Replica Sword
Spring Steel The Hobbit Swords
/The Hobbit Replica Sword
Japanese High Carbon Steel The Hobbit Swords
/The Hobbit Replica Sword
Ultra High Carbon Steel The Hobbit Swords
/The Hobbit Replica Sword
Japanese SKD11 Steel The Hobbit Swords
/The Hobbit Replica Sword
Battle Ready The Hobbit Swords
/The Hobbit Replica Sword
Functional The Hobbit Swords
/The Hobbit Replica Sword
A L T E R N A T I V E L Y
Stainless Steel Lord of The Rings (LOTR) Cosplay Props/LOTR Cosplay Props
8Cr13 Steel Lord of The Rings (LOTR) Cosplay Props/
LOTR Cosplay Props
Carbon Steel
 Steel Lord of The Rings (LOTR) Cosplay Props/
LOTR Cosplay Props
420J2 Steel Lord of The Rings (LOTR) Cosplay Props/
LOTR Cosplay Props
Damascus Steel Lord of The Rings (LOTR) Cosplay Props
/LOTR Cosplay Props
D2 Steel Lord of The Rings (LOTR) Cosplay Props
/LOTR Cosplay Props
440C Steel Lord of The Rings (LOTR) Cosplay Props
/LOTR Cosplay Props
Spring Steel Lord of The Rings (LOTR) Cosplay Props
/LOTR Cosplay Props
Japanese High Carbon Steel Lord of The Rings (LOTR) Cosplay Props
/LOTR Cosplay Props
Ultra High Carbon Steel Lord of The Rings (LOTR) Cosplay Props
/LOTR Cosplay Props
Japanese SKD11 Steel Lord of The Rings (LOTR) Cosplay Props
/LOTR Cosplay Props
Battle Ready Lord of The Rings (LOTR) Cosplay Props
/LOTR Cosplay Props
Functional Lord of The Rings (LOTR) Cosplay Props
/LOTR Cosplay Props
A L T E R N A T I V E L Y
Stainless Steel Lord of The Rings (LOTR) Cosplay Swords/
LOTR Replica Swords
8Cr13 Steel Lord of The Rings (LOTR) Cosplay Swords
/LOTR Replica Swords
Carbon Steel Lord of The Rings (LOTR) Cosplay Swords
/LOTR Replica Swords
420J2 Steel Lord of The Rings (LOTR) Cosplay Swords
/LOTR Replica Swords
Damascus Steel Lord of The Rings (LOTR) Cosplay Swords
/LOTR Replica Swords
D2 Steel Lord of The Rings (LOTR) Cosplay Swords
/LOTR Replica Swords
440C Steel Lord of The Rings (LOTR) Cosplay Swords
/LOTR Replica Swords
Spring Steel Lord of The Rings (LOTR) Cosplay Swords
/LOTR Replica Swords
Japanese High Carbon Steel Lord of The Rings (LOTR) Cosplay Swords
/LOTR Replica Swords
Ultra High Carbon Steel Lord of The Rings (LOTR) Cosplay Swords
/LOTR Replica Swords
Japanese SKD11 Steel Lord of The Rings (LOTR) Cosplay Swords
/LOTR Replica Swords
Battle Ready Lord of The Rings (LOTR) Cosplay Swords
/LOTR Replica Swords
Functional Lord of The Rings (LOTR) Cosplay Swords
/LOTR Replica Swords
POLICIES & THEIR LINKS
Shipping & Delivery (www.hsbladesent.com/pages/shipping-delivery-1)
General Instructions (https://www.hsbladesent.com/pages/general-instructions-and-care)
Returns, Exchanges & Refunds (www.hsbladesent.com/pages/returns-exhcanges)
Social Links

Facebook (www.facebook.com/hsbladesent)
Instagram (www.instagram.com/hsbladesent)
Twitter (www.twitter.com/hsbladesent)
Pinterest (www.pinterest.com/hsbladesenterprise)