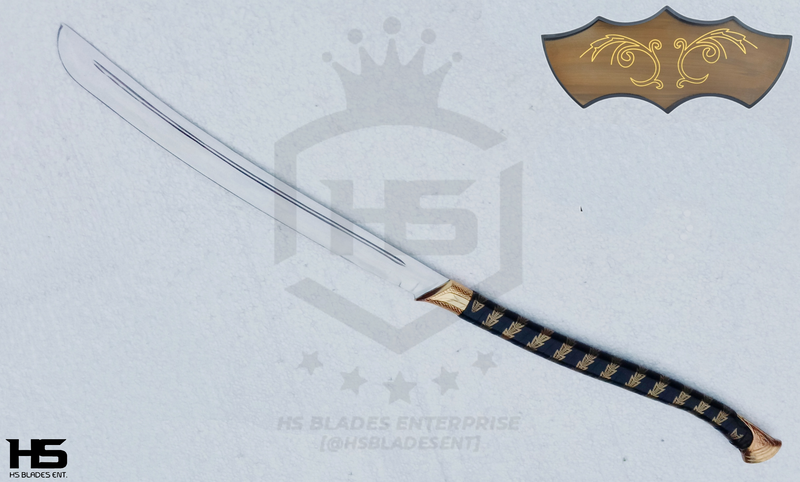 LOTR Replica
High Elven Sword in Just $77 (Battle Ready Spring Steel, Damascus & D2 Steel Versions are also Available) from Lord of The Rings with Plaque
Begins from Just $77.
Available in 11 Blade Materials (Steels)
BLADE MATERIAL VARIATIONS
Stainless Steel,
8Cr13,
Carbon Steel,
420J2,
Damascus,
D2,
440C,
Spring Steel,
Japanese High Carbon Steel,
Ultra High Carbon Steel,
Japanese SKD11 Steel.
DISTINCTIONS
Handmade
Handforged
Vast Blade Material Variations
Personalization Available
DIMENSIONS
Overall: 43"
Blade: 23"
Handle: 22"
MATERIALS
Blade: See "Blade Material" Variations
Handle: Wooden with Rexine Wrap
Plaque: Wood with Silk Screen Print (comes with Display Versions ONLY)
Sheath: Rexine/Leather (Comes with Battle Ready Versions ONLY)
Scabbard: NOT included with this item
NOTE
NOT an official replica.
Please read "Item in Picture" part of description.
Accessories are escorted as described above

ITEM IN TITLE PICTURE
Blade Material: Carbon Steel
Functionality: Display
Accessories: Plaque
ITEM NOMENCLATURE
Stainless Steel High Elven Sword with Plaque from Lord of The Rings-LOTR Swords
8Cr13 Steel High Elven Sword with Plaque from Lord of The Rings-LOTR Swords
Carbon Steel High Elven Sword with Plaque from Lord of The Rings-LOTR Swords
420J2 High Elven Sword with Plaque from Lord of The Rings-LOTR Swords
Damascus Steel High Elven Sword with Plaque from Lord of The Rings-LOTR Swords
D2 Steel High Elven Sword with Plaque from Lord of The Rings-LOTR Swords
440C Steel High Elven Sword with Plaque from Lord of The Rings-LOTR Swords
Spring Steel High Elven Sword with Plaque from Lord of The Rings-LOTR Swords
Japanese High Carbon Steel High Elven Sword with Plaque from Lord of The Rings-LOTR Swords
Ultra High Carbon Steel High Elven Sword with Plaque from Lord of The Rings-LOTR Swords
Japanese SKD11 Steel High Elven Sword with Plaque from Lord of The Rings-LOTR Swords
Battle Ready High Elven Sword with Plaque from Lord of The Rings-LOTR Swords
A L T E R N A T I V E L Y
Stainless Steel High Elven Sword from Lord of The Rings-LOTR Sword
8Cr13 Steel High Elven Sword from Lord of The Rings-LOTR Sword
Carbon Steel High Elven Sword from Lord of The Rings-LOTR Sword
420J2 High Elven Sword from Lord of The Rings-LOTR Sword
Damascus Steel High Elven Sword from Lord of The Rings-LOTR Sword
D2 Steel High Elven Sword from Lord of The Rings-LOTR Sword
440C Steel High Elven Sword from Lord of The Rings-LOTR Sword
Spring Steel High Elven Sword from Lord of The Rings-LOTR Sword
Japanese High Carbon Steel High Elven Sword from Lord of The Rings-LOTR Sword
Ultra High Carbon Steel High Elven Sword from Lord of The Rings-LOTR Sword
Japanese SKD11 Steel High Elven Sword from Lord of The Rings-LOTR Sword
Battle Ready High Elven Sword from Lord of The Rings-LOTR Sword
 GENERAL NOMENCLATURE
Stainless Steel Lord of The Rings Swords/Lord of The Rings Replica Sword
8Cr13 Steel Lord of The Rings Swords
/Lord of The Rings Replica Sword
Carbon Steel
Lord of The Rings Swords
/Lord of The Rings Replica Sword
420J2 Steel Lord of The Rings Swords
/Lord of The Rings Replica Sword
Damascus Steel Lord of The Rings Swords
/Lord of The Rings Replica Sword
D2 Steel Lord of The Rings Swords
/Lord of The Rings Replica Sword
440C Steel Lord of The Rings Swords
/Lord of The Rings Replica Sword
Spring Steel Lord of The Rings Swords
/Lord of The Rings Replica Sword
Japanese High Carbon Steel Lord of The Rings Swords
/Lord of The Rings Replica Sword
Ultra High Carbon Steel Lord of The Rings Swords
/Lord of The Rings Replica Sword
Japanese SKD11 Steel Lord of The Rings Swords
/Lord of The Rings Replica Sword
Battle Ready Lord of The Rings Swords
/Lord of The Rings Replica Sword
Functional Lord of The Rings Swords
/Lord of The Rings Replica Sword
A L T E R N A T I V E L Y
Stainless Steel The Hobbit Swords/The Hobbit Replica Sword
8Cr13 Steel The Hobbit Swords
/The Hobbit Replica Sword
Carbon Steel 
The Hobbit Swords/The Hobbit Replica Sword
420J2 Steel The Hobbit Swords
/The Hobbit Replica Sword
Damascus Steel The Hobbit Swords
/The Hobbit Replica Sword
D2 Steel The Hobbit Swords
/The Hobbit Replica Sword
440C Steel The Hobbit Swords
/The Hobbit Replica Sword
Spring Steel The Hobbit Swords
/The Hobbit Replica Sword
Japanese High Carbon Steel The Hobbit Swords
/The Hobbit Replica Sword
Ultra High Carbon Steel The Hobbit Swords
/The Hobbit Replica Sword
Japanese SKD11 Steel The Hobbit Swords
/The Hobbit Replica Sword
Battle Ready The Hobbit Swords
/The Hobbit Replica Sword
Functional The Hobbit Swords
/The Hobbit Replica Sword
A L T E R N A T I V E L Y
Stainless Steel Lord of The Rings (LOTR) Cosplay Props/LOTR Cosplay Props
8Cr13 Steel Lord of The Rings (LOTR) Cosplay Props/
LOTR Cosplay Props
Carbon Steel
 Steel Lord of The Rings (LOTR) Cosplay Props/
LOTR Cosplay Props
420J2 Steel Lord of The Rings (LOTR) Cosplay Props/
LOTR Cosplay Props
Damascus Steel Lord of The Rings (LOTR) Cosplay Props
/LOTR Cosplay Props
D2 Steel Lord of The Rings (LOTR) Cosplay Props
/LOTR Cosplay Props
440C Steel Lord of The Rings (LOTR) Cosplay Props
/LOTR Cosplay Props
Spring Steel Lord of The Rings (LOTR) Cosplay Props
/LOTR Cosplay Props
Japanese High Carbon Steel Lord of The Rings (LOTR) Cosplay Props
/LOTR Cosplay Props
Ultra High Carbon Steel Lord of The Rings (LOTR) Cosplay Props
/LOTR Cosplay Props
Japanese SKD11 Steel Lord of The Rings (LOTR) Cosplay Props
/LOTR Cosplay Props
Battle Ready Lord of The Rings (LOTR) Cosplay Props
/LOTR Cosplay Props
Functional Lord of The Rings (LOTR) Cosplay Props
/LOTR Cosplay Props
A L T E R N A T I V E L Y
Stainless Steel Lord of The Rings (LOTR) Cosplay Swords/LOTR Replica Swords
8Cr13 Steel Lord of The Rings (LOTR) Cosplay Swords
/LOTR Replica Swords
Carbon Steel Lord of The Rings (LOTR) Cosplay Swords
/LOTR Replica Swords
420J2 Steel Lord of The Rings (LOTR) Cosplay Swords
/LOTR Replica Swords
Damascus Steel Lord of The Rings (LOTR) Cosplay Swords
/LOTR Replica Swords
D2 Steel Lord of The Rings (LOTR) Cosplay Swords
/LOTR Replica Swords
440C Steel Lord of The Rings (LOTR) Cosplay Swords
/LOTR Replica Swords
Spring Steel Lord of The Rings (LOTR) Cosplay Swords
/LOTR Replica Swords
Japanese High Carbon Steel Lord of The Rings (LOTR) Cosplay Swords
/LOTR Replica Swords
Ultra High Carbon Steel Lord of The Rings (LOTR) Cosplay Swords
/LOTR Replica Swords
Japanese SKD11 Steel Lord of The Rings (LOTR) Cosplay Swords
/LOTR Replica Swords
Battle Ready Lord of The Rings (LOTR) Cosplay Swords
/LOTR Replica Swords
Functional Lord of The Rings (LOTR) Cosplay Swords
/LOTR Replica Swords
POLICIES & THEIR LINKS
Shipping & Delivery (www.hsbladesent.com/pages/shipping-delivery-1)
General Instructions (https://www.hsbladesent.com/pages/general-instructions-and-care)
Returns, Exchanges & Refunds (www.hsbladesent.com/pages/returns-exhcanges)
Social Links

Facebook (www.facebook.com/hsbladesent)
Instagram (www.instagram.com/hsbladesent)
Twitter (www.twitter.com/hsbladesent)
Pinterest (www.pinterest.com/hsbladesenterprise)