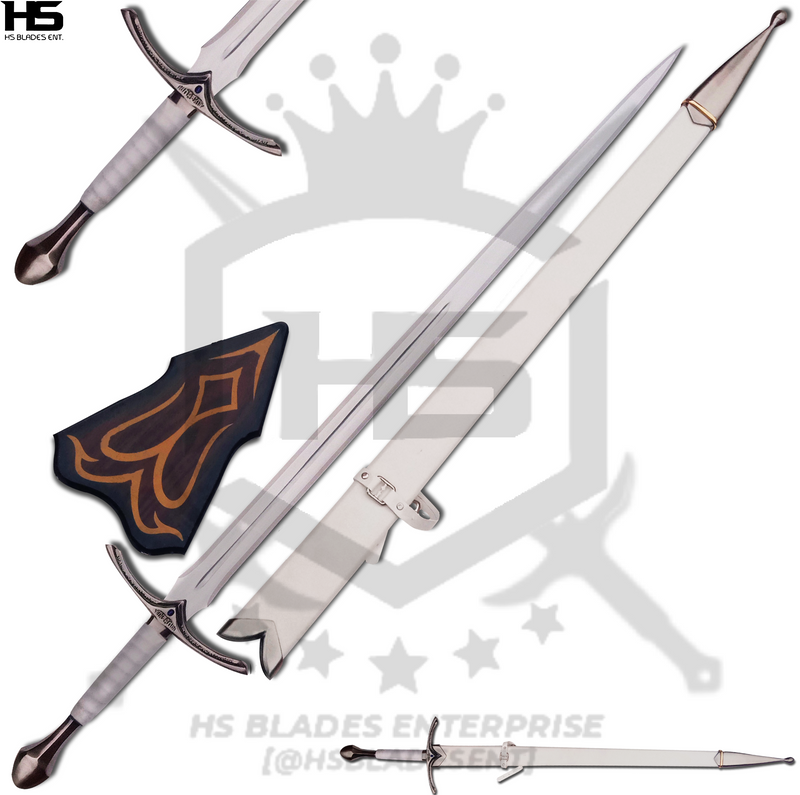 LOTR Replica
44" White Glamdring Sword of Gandalf in Just $77 (Spring Steel & D2 Steel versions are Available) from Lord of The Rings Swords-LOTR Swords
Gandalf's 
Glamdring
 Sword, also known as 
Foe Hammer
, Beater and 
Narya
 Sword of Wizard, is a 
longsword
 originally forged by the 
Elves
, with some roots with 
Dwarves
 as well. Although it first appeared in 
Lord of The Rings
: 
Fellowship of The Ring
 when 
Mithrandir
 visited for 
Bilbo
's 
birthday party
 to sprinkle magics with his 
staff
 as a grey wizard, the sword finds its origin from 
The Hobbit
, where it was recovered along with Goblin cleaver 
Orcrist
 and 
Sting
 during 
Thorin
's quest for 
lonely mountains
. The sword holds an iconic status in 
J.R.R Tolkien
's 
Middle Earth
 alongside with 
Anduril
, 
Herugrim
, 
Hadhafang
 and 
Elven
Knife
. After Gandalf was killed by Balrog (making him the first to be eliminated from The Fellowship ahead of Boromir carrying his sword and horn who was eliminated by Orcs coming with Uruk-Hai Scimitar in pursuit of The One Ring of Sauron when they attacked Frodo and Sam of The Shire but mistakenly abducted Pippin and Merry who were saved when the Sindarin trees revolted and eliminated Saurman under the lead of Treebeard Fangorn), he was later reincarnated as Gandalf the White with a white staff rather than his usual wooden staff, he was resurrected with Blue Glamdring in the Two Towers. 
Gandalf's sword
, which was formally 
Turgon
's as told by 
Elrond
, is 44-inch long 
with 
elvish embossing
 on the hilt to match the exquisite high-polish 33-inch fullered blade
. We offer this sword in 11 blade steels , with base variants starting from just $77. Glamdring sword features a wooden plaque for LOTR fans to hang it proudly to  showcase their enthusiasm. Scabbard is meticulously designed to provide both protection for the blade and a showcase for its exquisite craftsmanship because of its hand-stitched leather and its own meticulously casted fitting, creating a harmonious ensemble with the sword. This sword is available in three colors (White, Blue and Black) and two plaque styles (LOTR and Hobbit). This particular listing is for Blue/LOTR variant.
BLADE MATERIAL VARIATIONS
Stainless Steel,
8Cr13,
Carbon Steel,
420J2,
Damascus,
D2,
440C,
Spring Steel,
Japanese High Carbon Steel,
Ultra High Carbon Steel,
Japanese SKD11 Steel.
DISTINCTIONS
Handmade
Hand forged
High Polish
Vast & Material Variations
Personalization Available
DIMENSIONS
Overall: 44"
Blade: 34"
Handle: 10"
MATERIALS
Blade: See "Blade Material" Variations
Handle: Casted Metal, Wood
Plaque: Wood with Silk Screen Print (Standard with Display Versions ONLY)
Sheath: Leather (Standard With BR Versions ONLY)
Scabbard: NOT included with this item
NOTE
NOT an official replica.
Accessories are escorted as described above. 
Please select "All" in accessories to get entire set of accessories with any version.
BR=Battle Ready
ITEM NOMENCLATURE
Stainless Steel Glamdring Sword of Gandalf The Grey from Lord of The Rings Sword
8Cr13 Steel Glamdring Sword of Gandalf The Grey from Lord of The Rings Sword
Carbon Steel Glamdring Sword of Gandalf The Grey from Lord of The Rings Sword
420J2 Steel Glamdring Sword of Gandalf The Grey from Lord of The Rings Sword
Damascus Steel Glamdring Sword of Gandalf The Grey from Lord of The Rings Sword
D2 Steel Glamdring Sword of Gandalf The Grey from Lord of The Rings Sword
440C Steel Glamdring Sword of Gandalf The Grey from Lord of The Rings Sword
Spring Steel Glamdring Sword of Gandalf The Grey from Lord of The Rings Sword
Japanese High Carbon Steel Glamdring Sword of Gandalf The Grey from Lord of The Rings Sword
Ultra High Carbon Steel Glamdring Sword of Gandalf The Grey from Lord of The Rings Sword
Japanese SKD11 Steel Glamdring Sword of Gandalf The Grey from Lord of The Rings Sword
Functional Glamdring Sword of Gandalf The Grey from Lord of The Rings Sword
Full Tang Glamdring Sword of Gandalf The Grey from Lord of The Rings Sword
Hand Forged 
Glamdring Sword of Gandalf The Grey from Lord of The Rings Sword
Real 
Glamdring Sword of Gandalf The Grey from Lord of The Rings Sword
Full Scale 
Glamdring Sword of Gandalf The Grey from Lord of The Rings Sword
Handmade 
Glamdring Sword of Gandalf The Grey from Lord of The Rings Sword
A L T E R N A T I V E L Y
Stainless Steel Black Glamdring Sword of Gandalf The Grey from Lord of The Rings-LOTR Replica Swords
8Cr13 Steel Black Glamdring Sword of Gandalf The Grey from Lord of The Rings-LOTR Replica Swords
Carbon Steel Black Glamdring Sword of Gandalf The Grey from Lord of The Rings-LOTR Replica Swords
420J2 Steel Black Glamdring Sword of Gandalf The Grey from Lord of The Rings-LOTR Replica Swords
Damascus Steel Blue Glamdring Sword of Gandalf The Grey from Lord of The Rings-LOTR Replica Swords
D2 Steel Blue Glamdring Sword of Gandalf The Grey from Lord of The Rings-LOTR Replica Swords
440C Steel Blue Glamdring Sword of Gandalf The Grey from Lord of The Rings-LOTR Replica Swords
Spring Steel Blue Glamdring Sword of Gandalf The Grey from Lord of The Rings-LOTR Replica Swords
Japanese High Carbon Steel Black Glamdring Sword of Gandalf The Grey from Lord of The Rings-LOTR Replica Swords
Ultra High Carbon Steel
Bl
ack
Glamdring Sword of Gandalf The Grey from Lord of The Rings-LOTR Replica Swords
Japanese SKD11 Steel
Bl
ack
Glamdring Sword of Gandalf The Grey from Lord of The Rings-LOTR Replica Swords
Functional
Bl
ack
Glamdring Sword of Gandalf The Grey from Lord of The Rings-LOTR Replica Swords
Full Tang
Bl
ack
Glamdring Sword of Gandalf The Grey from Lord of The Rings-LOTR Replica Swords
Hand Forged 
Bl
ack
 Glamdring Sword of Gandalf The Grey from Lord of The Rings-LOTR Replica Swords
Real 
Bl
ack
 Glamdring Sword of Gandalf The Grey from Lord of The Rings-LOTR Replica Swords
Full Scale 
Bl
ack
 Glamdring Sword of Gandalf The Grey from Lord of The Rings-LOTR Replica Swords
Handmade 
Bl
ack
 Glamdring Sword of Gandalf The Grey from Lord of The Rings-LOTR Replica Swords
A L T E R N A T I V E L Y
Stainless Steel Gandalf Sword Glamdring Foehammer from Lord of The Rings-LOTR Sword
8Cr13 Steel Gandalf Sword Glamdring Foehammer from Lord of The Rings-LOTR Sword
Carbon Steel Gandalf Sword Glamdring Foehammer from Lord of The Rings-LOTR Sword
420J2 Steel Gandalf Sword Glamdring Foehammer from Lord of The Rings-LOTR Sword
Damascus Steel Gandalf Sword Glamdring Foehammer from Lord of The Rings-LOTR Sword
D2 Steel Gandalf Sword Glamdring Foehammer from Lord of The Rings-LOTR Sword
440C Steel Gandalf Sword Glamdring Foehammer from Lord of The Rings-LOTR Sword
Spring Steel Gandalf Sword Glamdring Foehammer from Lord of The Rings-LOTR Sword
Japanese High Carbon Steel Gandalf Sword Glamdring Foehammer from Lord of The Rings-LOTR Sword
Ultra High Carbon Steel Gandalf Sword Glamdring Foehammer from Lord of The Rings-LOTR Sword
Japanese SKD11 Steel Gandalf Sword Glamdring Foehammer from Lord of The Rings-LOTR Sword
Functional Gandalf Sword Glamdring Foehammer from Lord of The Rings-LOTR Sword
Handforged 
Gandalf Sword Glamdring Foehammer from Lord of The Rings-LOTR Sword
Full Scale 
Gandalf Sword Glamdring Foehammer from Lord of The Rings-LOTR Sword
Real 
Gandalf Sword Glamdring Foehammer from Lord of The Rings-LOTR Sword
Handmade 
Gandalf Sword Glamdring Foehammer from Lord of The Rings-LOTR Sword
Full Tang Gandalf Sword Glamdring Foehammer from Lord of The Rings-LOTR Swords
GENERAL NOMENCLATURE
Stainless Steel Lord of The Rings Swords-LOTR Sword
8Cr13 Steel Lord of The Rings Swords-LOTR Sword
Carbon Steel 
Lord of The Rings Swords-LOTR Sword
420J2 Steel Lord of The Rings Swords-LOTR Sword
Damascus Steel Lord of The Rings Swords-LOTR Sword
D2 Steel Lord of The Rings Swords-LOTR Sword
440C Steel Lord of The Rings Swords-LOTR Sword
Spring Steel Lord of The Rings Swords-LOTR Sword
Japanese High Carbon Steel Lord of The Rings Swords-LOTR Sword
Ultra High Carbon Steel Lord of The Rings Swords-LOTR Sword
Japanese SKD11 Steel Lord of The Rings Swords-LOTR Sword
Functional Lord of The Rings Swords-LOTR Sword
Full Tang Lord of The Rings Swords-LOTR Sword
POLICIES & THEIR LINKS
Shipping & Delivery (www.hsbladesent.com/pages/shipping-delivery-1)
General Instructions (https://www.hsbladesent.com/pages/general-instructions-and-care)
Returns, Exchanges & Refunds (www.hsbladesent.com/pages/returns-exhcanges)
Social Links

Facebook (www.facebook.com/hsbladesent)
Instagram (www.instagram.com/hsbladesent)
Twitter (www.twitter.com/hsbladesent)
Pinterest (www.pinterest.com/hsbladesenterprise)