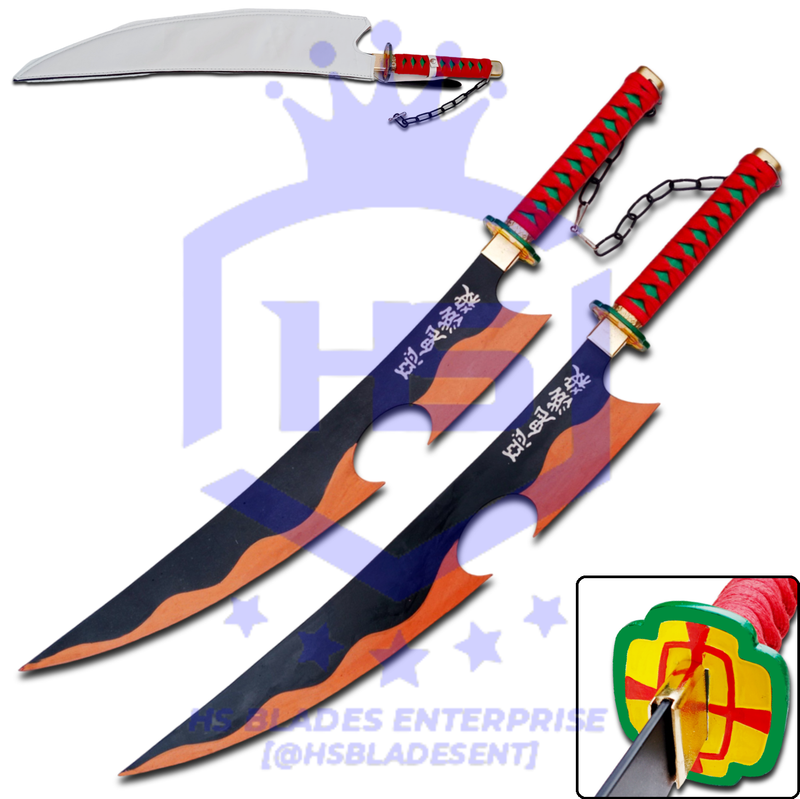 Demon Slayer
Orange Uzui Amber Nichirin Sword in Just $121 (Japanese Steel is Available) of Uzui Tengen from Demon Slayer Swords | Japanese Samurai Sword
BLADE MATERIAL VARIATIONS
Chrome Steel, 
Carbon Steel, 
1045 Steel, 
1060 Steel, 
Damascus Steel, 
High Carbon Steel, 
Spring Temp. HC Steel, 
Japanese Medium Carbon Steel, 
Japanese High Carbon Steel, 
Ultra High Carbon Steel, 
Japanese Spring Steel, 
Japanese SKD11 Steel.
DISTINCTIONS
Handmade
Hand forged
Heat Tempered
Full Tang
Vast Material Variations
Personalization Available
DIMENSIONS
Overall: 36"
Blade: 25"
Handle: 11"
MATERIALS
Blade: See "Blade Material" Variations
 Tsuba (Guard): Casted Metal
Tsuka (Handle): Wood, Wrapped with Cotton Cord
Display Stand: Wood
NOTE
Sheath is available separately. Please contact us if you want sheaths along with your swords too.
Discounts are available on bulk buying or buying multiple items in a single cart.
ITEM NOMENCLATURE
Chrome Steel Amber Nichirin Blade Twin Sword of Tengen Uzui from Demon Slayer Kimetsu no Yaiba (Demon Slayer Swords)
Carbon Steel Amber Nichirin Blade Twin Sword of Tengen Uzui from Demon Slayer Kimetsu no Yaiba (Demon Slayer Swords)
1045 Carbon Steel Amber Nichirin Blade Twin Sword of Tengen Uzui from Demon Slayer Kimetsu no Yaiba (Demon Slayer Swords)
1070 Carbon Steel Amber Nichirin Blade Twin Sword of Tengen Uzui from Demon Slayer Kimetsu no Yaiba (Demon Slayer Swords)
1095 Carbon Steel Amber Nichirin Blade Twin Sword of Tengen Uzui from Demon Slayer Kimetsu no Yaiba (Demon Slayer Swords)
Damascus Steel Amber Nichirin Blade Twin Sword of Tengen Uzui from Demon Slayer Kimetsu no Yaiba (Demon Slayer Swords)
High Carbon Steel Amber Nichirin Blade Twin Sword of Tengen Uzui from Demon Slayer Kimetsu no Yaiba (Demon Slayer Swords)
Spring Tempered High Carbon Steel Amber Nichirin Blade Twin Sword of Tengen Uzui from Demon Slayer Kimetsu no Yaiba (Demon Slayer Swords)
Japanese Medium Carbon Steel Amber Nichirin Blade Twin Sword of Tengen Uzui from Demon Slayer Kimetsu no Yaiba (Demon Slayer Swords)
Japanese High Carbon Steel Amber Nichirin Blade Twin Sword of Tengen Uzui from Demon Slayer Kimetsu no Yaiba (Demon Slayer Swords)
Ultra High Carbon Steel Amber Nichirin Blade Twin Sword of Tengen Uzui from Demon Slayer Kimetsu no Yaiba (Demon Slayer Swords)
Japanese Spring Steel Amber Nichirin Blade Twin Sword of Tengen Uzui from Demon Slayer Kimetsu no Yaiba (Demon Slayer Swords)
Japanese SKD11 Steel Amber Nichirin Blade Twin Sword of Tengen Uzui from Demon Slayer Kimetsu no Yaiba (Demon Slayer Swords)
Functional Amber Nichirin Blade Twin Sword of Tengen Uzui from Demon Slayer Kimetsu no Yaiba (Demon Slayer Swords)
Full Tang Amber Nichirin Blade Twin Sword of Tengen Uzui from Demon Slayer Kimetsu no Yaiba (Demon Slayer Swords)
A L T E R N A T I V E L Y
Chrome Steel Tengen Uzui Nichirin Blade Swords from Demon Slayer Kimetsu no Yaiba Swords
Carbon Steel
Tengen Uzui Nichirin Blade Swords 
from Demon Slayer Kimetsu no Yaiba Swords
1045 Carbon Steel
Tengen Uzui Nichirin Blade Swords
from Demon Slayer Kimetsu no Yaiba Swords
1070 Carbon Steel
Tengen Uzui Nichirin Blade Swords
from Demon Slayer Kimetsu no Yaiba Swords
1095 Carbon Steel
Tengen Uzui Nichirin Blade Swords 
from Demon Slayer Kimetsu no Yaiba Swords
Damascus Steel
Tengen Uzui Nichirin Blade Swords
from Demon Slayer Kimetsu no Yaiba Swords
High Carbon Steel
Tengen Uzui Nichirin Blade Swords
from Demon Slayer Kimetsu no Yaiba Swords
Spring Tempered High Carbon Steel
Tengen Uzui Nichirin Blade Swords
of Uzui from Demon Slayer Kimetsu no Yaiba Swords
Japanese Medium Carbon Steel
Tengen Uzui Nichirin Blade Swords
from Demon Slayer Kimetsu no Yaiba Swords
Japanese High Carbon Steel
Tengen Uzui Nichirin Blade Swords
from Demon Slayer Kimetsu no Yaiba Swords
Ultra High Carbon Steel
Tengen Uzui Nichirin Blade Swords
from Demon Slayer Kimetsu no Yaiba Swords
Japanese Spring Steel
Tengen Uzui Nichirin Blade Swords
from Demon Slayer Kimetsu no Yaiba Swords
Japanese SKD11 Steel
Tengen Uzui Nichirin Blade Swords
from Demon Slayer Kimetsu no Yaiba Swords
Functional
Tengen Uzui Nichirin Blade Swords
from Demon Slayer Kimetsu no Yaiba Swords
Full Tang
Tengen Uzui Nichirin Blade Swords
from Demon Slayer Kimetsu no Yaiba Swords
Handmade
Tengen Uzui Nichirin Blade Swords
 from Demon Slayer Kimetsu no Yaiba Swords
GENERAL NOMENCLATURE

Chrome Steel Nichirin Blade Sword from Demon Slayer Kimetsu no Yaiba Swords
Carbon Steel Nichirin Blade Sword from Demon Slayer Kimetsu no Yaiba Swords
1045 Carbon Steel Nichirin Blade Sword from Demon Slayer Kimetsu no Yaiba Swords
1070 Carbon Steel Nichirin Blade Sword from Demon Slayer Kimetsu no Yaiba Swords
1095 Carbon Steel Nichirin Blade Sword from Demon Slayer Kimetsu no Yaiba Swords
Damascus Steel Nichirin Blade Sword from Demon Slayer Kimetsu no Yaiba Swords
High Carbon Steel Nichirin Blade Sword from Demon Slayer Kimetsu no Yaiba Swords
Spring Tempered High Carbon Steel Nichirin Blade Sword from Demon Slayer Kimetsu no Yaiba Swords
Japanese Medium Carbon Steel Nichirin Blade Sword from Demon Slayer Kimetsu no Yaiba Swords
Japanese High Carbon Steel Nichirin Blade Sword from Demon Slayer Kimetsu no Yaiba Swords
Ultra High Carbon Steel Nichirin Blade Sword from Demon Slayer Kimetsu no Yaiba Swords
Japanese Spring Steel Nichirin Blade Sword from Demon Slayer Kimetsu no Yaiba Swords
Japanese SKD11 Steel Nichirin Blade Sword from Demon Slayer Kimetsu no Yaiba Swords
Functional Nichirin Blade Sword from Demon Slayer Kimetsu no Yaiba Swords
Full Tang Nichirin Blade Sword from Demon Slayer Kimetsu no Yaiba Swords
Handmade Nichirin Blade Sword from Demon Slayer Kimetsu no Yaiba Swords
A L T E R N A T I V E L Y
Chrome Steel Uzui Tengen Sword Real from Demon Slayer Swords
Carbon Steel Uzui Tengen Sword for sale from Demon Slayer Swords
1045 Carbon Steel Uzui Tengen Sword replica from Demon Slayer Swords
1070 Carbon Steel Tengen Uzui Sword for sale from Demon Slayer Swords
1095 Carbon Steel Uzui Tengen Swords for sale from Demon Slayer Swords
Damascus Steel Tengen Uzui Swords for sale from Demon Slayer Swords
High Carbon Steel
Tengen Uzui
Swords real metal from Demon Slayer Swords
Spring Tempered High Carbon Steel
Tengen Uzui
Swords replica from Demon Slayer Swords
Japanese Medium Carbon Steel Tengen Uzui Weapon from Demon Slayer Swords
Japanese High Carbon Steel
Tengen Uzui Nichirin Blades
from Demon Slayer Swords
Ultra High Carbon Steel Tengen Uzui Sword name from Demon Slayer Swords
Japanese Spring Steel Amber Nichirin Blade of Uzui from Demon Slayer Swords
Japanese SKD11 Tengen Sword Anime from Demon Slayer Swords
Functional Tengen Swords amazon from Demon Slayer Swords
Full Tang Tengen Swords replica from Demon Slayer Swords
Handmade Tengen Uzui Swords replica amazon from Demon Slayer Swords
A L T E R N A T I V E L Y
Chrome Steel Nichirin Sword from Demon Slayer Swords
Carbon Steel Nichirin Sword from Demon Slayer Swords
1045 Carbon Steel Nichirin Sword from Demon Slayer Swords
1070 Carbon Steel Nichirin Sword from Demon Slayer Swords
1095 Carbon Steel Nichirin Sword from Demon Slayer Swords
Damascus Steel Nichirin Sword from Demon Slayer Swords
High Carbon Steel Nichirin Sword from Demon Slayer Swords
Spring Tempered High Carbon Steel Nichirin Sword from Demon Slayer Swords
Japanese Medium Carbon Steel Nichirin Sword from Demon Slayer Swords
Japanese High Carbon Steel Nichirin Sword from Demon Slayer Swords
Ultra High Carbon Steel Nichirin Sword from Demon Slayer Swords
Japanese Spring Steel Nichirin Sword from Demon Slayer Swords
Japanese SKD11 Steel Nichirin Sword from Demon Slayer Swords
Functional Nichirin Sword from Demon Slayer Swords
Full Tang Nichirin Sword from Demon Slayer Swords
Handmade Nichirin Sword from Demon Slayer Swords
POLICIES & THEIR LINKS
Shipping & Delivery (www.hsbladesent.com/pages/shipping-delivery-1)
General Instructions (https://www.hsbladesent.com/pages/general-instructions-and-care)
Returns, Exchanges & Refunds (www.hsbladesent.com/pages/returns-exhcanges)
Social Links

Facebook (www.facebook.com/hsbladesent)
Instagram (www.instagram.com/hsbladesent)
Twitter (www.twitter.com/hsbladesent)
Pinterest (www.pinterest.com/hsbladesenterprise)