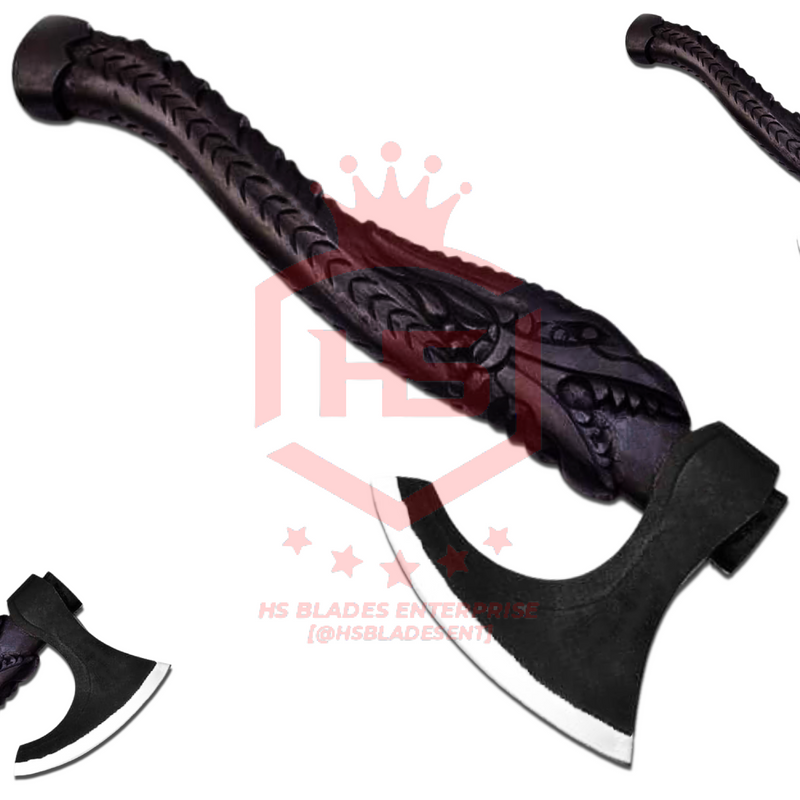 Viking Axe
The Dragon Slayer: Hand Forged Viking Axe with Leather Sheath & Wooden Box in Just $59-Functional Viking Axe
Beings from Just $59.
Available in 3 Blade Steels
Customization & Personalized Engraving is available.

SALIENT DISTINCTIONS
Introducing The Dragon Slayer, a hand forged authentic real steel Viking Axe. Unleash Your Inner Warrior with our meticulously hand-forged Viking axe. Crafted with precision and inspired by ancient Norse craftsmanship, this authentic Viking Axe embodies the spirit of the Viking warriors.
Expertly constructed from high-quality forged steel, our Viking axe delivers exceptional durability and striking power. Its razor-sharp blade cuts through any obstacle with ease, making it ideal for battle, reenactments, or display.
Every swing tells a tale of Viking legends and conquests. The intricately carved handle, wrapped in premium leather, ensures a firm and comfortable grip, empowering you with complete control in any combat situation.
Whether you seek a formidable weapon or a stunning showpiece, our hand-forged Viking axe delivers on all fronts. It's a testament to the Viking legacy, a symbol of strength, and a tribute to the artistry of the ancient Norse craftsmen.
Embrace the power of the Viking warriors and add this extraordinary axe to your arsenal. Elevate your collection with our exclusive, limited edition Viking axe – a true masterpiece of heritage and strength.
The Axe comes with sheath that is crafted with precision and durability in mind, our leather axe sheath offers superior protection for your beloved axe. Handcrafted from high-quality leather, it securely encases the blade, preventing damage and ensuring safe storage. Its stylish design and reliable functionality make it the perfect companion for any axe enthusiast.
Enhance the presentation and protection of your Viking axe with our finely crafted wooden box. Meticulously handmade from high-quality wood, this sturdy and visually striking box showcases intricate details and carvings inspired by Viking aesthetics. Securely store your prized Viking axe while adding a touch of Norse elegance to your collection.


BLADE MATERIALS
Chrome Steel
Carbon Steel
Damascus Steel
DIMENSIONS

Overall: 22"
Axe Head: 4.5"
Cutting Edge: 6"
Handle Length: 21" 
MATERIALS

Axe Head Blade Material: See "Blade Materials"
Handle: Ashwood
Wrapping: Rexine
Sheath: Leather
ITEM IN PICTURES

Blade Material: Carbon Steel
Engraving Style: Etching
Wooden Box: No
NOTE
All dimensions are approximate. Slight variations maybe possible.
Please read the 'item in picture' part of description.
ITEM NOMENCLATURE
Chrome Steel Battle Ready Viking Axe with Box
Carbon Steel Battle Ready Viking Axe with Leather Sheath
Damascus Battle Ready Viking Axe with Leather Sheath
Hand Forged 
Battle Ready Viking Axe with Leather Sheath
Handmade 
Battle Ready Viking Axe with Leather Sheath
Authentic 
Battle Ready Viking Axe with Leather Sheath
Real 
Battle Ready Viking Axe with Leather Sheath
Functional 
Battle Ready Viking Axe with Leather Sheath
GENERAL NOMENCLATURE
Chrome Steel
Valknut Axe with Leather Sheath
Carbon Steel Valknut Axe with Leather Sheath
Damascus Valknut Axe with Leather Sheath
Handmade 
Valknut Axe with Leather Sheath
Hand Forged 
Valknut Axe with Leather Sheath
Functional 
Valknut Axe with Leather Sheath
A L T E R N A T I V E L Y
Battle Ready Chrome Steel Axe with Leather Sheath
Battle Ready Carbon Steel Axe with Leather Sheath
Battle Ready Damascus Axe with Leather Sheath
Battle Ready Handmade Axe with Leather Sheath
Battle Ready Hand Forged Axe with Leather Sheath
Battle Ready Authentic Axe with Leather Sheath
Battle Ready Real Axe with Leather Sheath
Battle Ready Functional Axe with Leather Sheath
A L T E R N A T I V E L Y
Chrome Steel Viking Axe with Leather Sheath
Carbon Steel Battle Ready Viking Axe with Leather Sheath
Damascus Battle Ready Viking Axe with Leather Sheath
Handmade Viking Axe with Leather Sheath
Hand Forged Viking Axe with Leather Sheath
Authentic Viking Axe with Leather Sheath
Real Viking Axe with Leather Sheath
Functional Viking Axe with Leather Sheath
A L T E R N A T I V E L Y
Chrome Steel Norse Axe with Leather Sheath
Carbon Steel Norse Axe with Leather Sheath
Damascus Norse Axe with Leather Sheath
Handmade Norse Axe with Leather Sheath
Hand Forged Norse Axe with Leather Sheath
Authentic Norse Axe with Leather Sheath
Real Norse Axe with Leather Sheath
Functional Norse Axe with Leather Sheath
A L T E R N A T I V E L Y
Chrome Steel Viking Hatchet Axe with Leather Sheath
Carbon Steel Viking Hatchet Axe with Leather Sheath
Damascus Viking Hatchet Axe with Leather Sheath
Handmade Viking Hatchet Axe with Leather Sheath
Hand Forged Viking Hatchet Axe with Leather Sheath
Authentic Viking Hatchet Axe with Leather Sheath
Real Viking Hatchet Axe with Leather Sheath
Functional Viking Hatchet Axe with Leather Sheath
A L T E R N A T I V E L Y
Chrome Steel Bushcraft Axe with Leather Sheath
Carbon Steel Bushcraft Axe with Leather Sheath
Damascus Bushcraft Axe with Leather Sheath
Handmade Bushcraft Axe with Leather Sheath
Hand Forged Bushcraft Axe with Leather Sheath
Authentic Bushcraft Axe with Leather Sheath
Real Bushcraft Axe with Leather Sheath
Functional Bushcraft Axe with Leather Sheath

A L T E R N A T I V E L Y
Chrome Steel Hunting Axe with Leather Sheath
Carbon Steel
Hunting
Axe with Leather Sheath
Damascus
Hunting
Axe with Leather Sheath
Handmade Hunting Axe with Leather Sheath
Hand Forged Hunting Axe with Leather Sheath
Authentic Hunting Axe with Leather Sheath
Real Hunting Axe with Leather Sheath
Functional Hunting Axe with Leather Sheath
A L T E R N A T I V E L Y
Chrome Steel Camping Axe with Leather Sheath
Carbon Steel Camping Axe with Leather Sheath
Damascus Camping Axe with Leather Sheath
Handmade Camping Axe with Leather Sheath
Hand Forged Camping Axe with Leather Sheath
Authentic Camping Axe with Leather Sheath
Real Camping Axe with Leather Sheath
Functional Camping Axe with Leather Sheath
A L T E R N A T I V E L Y
Chrome Steel Pizza Cutter Axe with Leather Sheath
Carbon Steel
Pizza Cutter Axe with Leather Sheath
Damascus
Pizza Cutter Axe with Leather Sheath
Handmade Pizza Cutter Axe with Leather Sheath
Hand Forged Pizza Cutter Axe with Leather Sheath
Authentic Pizza Cutter Axe with Leather Sheath
Real Pizza Cutter Axe with Leather Sheath
Functional Pizza Cutter Axe with Leather Sheath
A L T E R N A T I V E L Y
Battle Ready 
Chrome Steel
Hand Engraved 
Vikings Axe with Leather Sheath
Battle Ready 
Carbon Steel
Hand Engraved 
Vikings Axe with Leather Sheath
Battle Ready 
Damascus Hand Engraved Vikings Axe with Leather Sheath
Handmade Hand Engraved Vikings Axe with Leather Sheath
Hand Forged Hand Engraved Vikings Axe with Leather Sheath
Authentic Hand Engraved Vikings Axe with Leather Sheath
Real Hand Engraved Vikings Axe with Leather Sheath
Functional Hand Engraved Vikings Axe with Leather Sheath
POLICIES & THEIR LINKS
Shipping & Delivery (www.hsbladesent.com/pages/shipping-delivery-1)
General Instructions (https://www.hsbladesent.com/pages/general-instructions-and-care)
Returns, Exchanges & Refunds (www.hsbladesent.com/pages/returns-exhcanges)
Social Links

Facebook (www.facebook.com/hsbladesent)
Instagram (www.instagram.com/hsbladesent)
Twitter (www.twitter.com/hsbladesent)
Pinterest (www.pinterest.com/hsbladesenterprise)