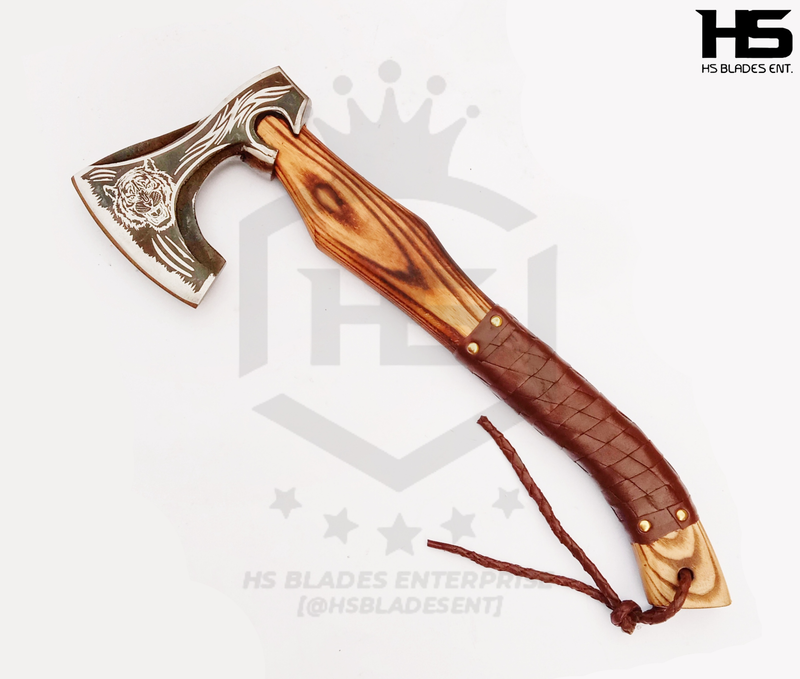 Axe
The Tigrar: Battle Ready Functional Axe with Leather Sheath in Just $69-Functional Viking Axe
Beings from Just $59.
Conditional Free Shipping is Available.
BLADE MATERIALS
Chrome Steel
Carbon Steel
Damascus Steel
DISTINCTION
Hand Forged
Battle Ready
Customizable
Functional
Variations Available
Leather Sheath
DIMENSIONS

Overall: 18"
Axe Head: 6.5"
Cutting Edge: 5"
Handle Length: 17.5" 
MATERIALS

Axe Head Blade Material: See "Blade Materials"
Handle: Ashwood
Wrapping: Rexine
Head Finish: See "Finish" Variations
Sheath: Leather
ITEM IN PICTURE

Blade Material: Carbon Steel
Wrapping: Yes
Finish: Etching
VARIATIONS

F I N I S H
Polish: Item will be without any pattern/design on head
Screen Printing: Pattern/Design is silk screen printed on axe head
Etching: Pattern/Design is acid etched on the axe head
Hand Engraving: Pattern/Design is hand engraved on axe head
NOTE
All dimensions are approximate. Slight variations maybe possible.
Please read the 'item in picture' & 'variations' part of description carefully
ITEM NOMENCLATURE
Chrome Steel Tigrar Battle Ready Functional Axe with Leather Sheath
Carbon Steel Tigrar Battle Ready Functional Axe with Leather Sheath
Damascus Tigrar Battle Ready Functional Axe with Leather Sheath
GENERAL NOMENCLATURE
Chrome Steel Battle Ready Valknut Axe with Leather Sheath
Carbon Steel Battle Ready Valknut Axe with Leather Sheath
Damascus Battle Ready Valknut Axe with Leather Sheath

A L T E R N A T I V E L Y
Chrome Steel Battle Ready Axe with Leather Sheath
Carbon Steel Battle Ready Axe with Leather Sheath
Damascus Battle Ready Axe with Leather Sheath

A L T E R N A T I V E L Y
Chrome Steel Battle Ready Viking Axe with Leather Sheath
Carbon Steel Battle Ready Viking Axe with Leather Sheath
Damascus Battle Ready Viking Axe with Leather Sheath

A L T E R N A T I V E L Y
Chrome Steel Battle Ready Vikings Axe with Leather Sheath
Carbon Steel Battle Ready Vikings Axe with Leather Sheath
Damascus Battle Ready Vikings Axe with Leather Sheath

A L T E R N A T I V E L Y
Chrome Steel Battle Ready Norse Axe with Leather Sheath
Carbon Steel Battle Ready Norse Axe with Leather Sheath
Damascus Battle Ready Norse Axe with Leather Sheath

A L T E R N A T I V E L Y
Chrome Steel Battle Ready Hatchet Axe with Leather Sheath
Carbon Steel Battle Ready Hatchet Axe with Leather Sheath
Damascus Battle Ready Hatchet Axe with Leather Sheath

A L T E R N A T I V E L Y
Chrome Steel Battle Ready Bushcraft Axe with Leather Sheath
Carbon Steel Battle Ready Bushcraft Axe with Leather Sheath
Damascus Battle Ready Bushcraft Axe with Leather Sheath

A L T E R N A T I V E L Y
Chrome Steel Battle Ready Camping Axe with Leather Sheath
Carbon Steel Battle Ready Camping Axe with Leather Sheath
Damascus Battle Ready Camping Axe with Leather Sheath

A L T E R N A T I V E L Y
Chrome Steel Battle Ready Vikings Axe 
with Etching
with Leather Sheath
Carbon Steel Battle Ready Vikings Axe 
with Etching
with Leather Sheath
Damascus Battle Ready Vikings Axe with Etching with Leather Sheath
A L T E R N A T I V E L Y
Chrome Steel Battle Ready
Hand Engraved 
Vikings Axe with Leather Sheath
Carbon Steel Battle Ready
Hand Engraved 
Vikings Axe with Leather Sheath
Damascus Battle Ready Hand Engraved Vikings Axe with Leather Sheath
A L T E R N A T I V E L Y
Chrome Steel Battle 
Ready
Hand Engraved Camping Axe with Leather Sheath
Carbon Steel Battle
Ready 
Hand Engraved Camping Axe with Leather Sheath
Damascus Battle Ready Hand Engraved Camping Axe with Leather Sheath
A L T E R N A T I V E L Y
Chrome Steel Battle 
Ready
Hand Engraved Hunting Axe with Leather Sheath
Carbon Steel Battle 
Ready
Hand Engraved Hunting Axe with Leather Sheath
Damascus Battle Ready Hand Engraved Hunting Axe with Leather Sheath
POLICIES & THEIR LINKS
Shipping & Delivery (www.hsbladesent.com/pages/shipping-delivery-1)
General Instructions (https://www.hsbladesent.com/pages/general-instructions-and-care)
Returns, Exchanges & Refunds (www.hsbladesent.com/pages/returns-exhcanges)
Social Links

Facebook (www.facebook.com/hsbladesent)
Instagram (www.instagram.com/hsbladesent)
Twitter (www.twitter.com/hsbladesent)
Pinterest (www.pinterest.com/hsbladesenterprise)