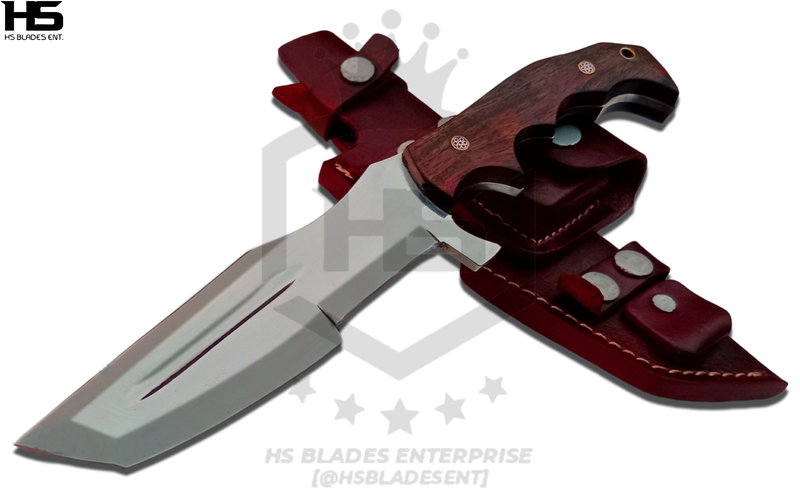 Tracker Knife
WLO-5801-Full Tang D2 Steel Tracker Knife with Sheath fit for Camping, Hunting & Survival
Being made from premium material for both blade & handle, this camping knife is 
full tang
 made from 
D2 Steel
 that is forged from the tip to the end of the handle and is a fixed blade knife with a total length of 
approximately 28cm
. Its is best for camping & bushcraft purposes because this knife is wear & rust resistant as it is made up of premium D2 Steel, which is known for its excellent wear resistance, edge retention and sharpness as cutting knife. These qualities are impressively enhanced by the skill of craftsmanship. From the 
28cm
, 
15cm
 is the 
blade
 and 
13cm
 is the 
handle
 which is made up of 
wood. 
For the knife for such purposes, sheath is a must and we took great notice of this fact and provided 
Leather Sheath
 that is hand stitched and can be worn around on a belt. 
HIGHLIGHTS
D2 Steel
Full Tang
28cm (15+13)
Leather Sheath


CATEGORY INFORMATION:

WLO (Wholesale Leftover) are newly made fresh products that are made in excess from the ordered quantity as normal industrial process. By condition, products are new, fresh, never used and without any defect whatsoever. HS Blades Enterprise offers these excess products to retail customers at wholesale pricing. Only LIMITED QUANTITY is available in this category and once out of stock, item is archeived.
NOMENCLATURE:
Stainless Steel Bushcraft Tracker Knife with Sheath-Camping Knife
8Cr13 Steel Bushcraft Tracker Knife with Sheath-Camping Knife
Carbon Steel Bushcraft Tracker Knife with Sheath-Camping Knife
420J2 Steel Bushcraft Tracker Knife with Sheath-Camping Knife
Damascus Steel Bushcraft Tracker Knife with Sheath-Camping Knife
D2 Steel Bushcraft Tracker Knife with Sheath-Camping Knife
440C Steel Bushcraft Tracker Knife with Sheath-Camping Knife
Spring Steel Bushcraft Tracker Knife with Sheath-Camping Knife
1095 Bushcraft Tracker Knife with Sheath-Camping Knife
High Carbon Steel Bushcraft Tracker Knife with Sheath-Camping Knife
Japanese High Carbon Steel Bushcraft Tracker Knife with Sheath-Camping Knife
Ultra High Carbon Steel Bushcraft Tracker Knife with Sheath-Camping Knife
Japanese SKD11 Steel Bushcraft Tracker Knife with Sheath-Camping Knife
Battle Ready Bushcraft Tracker Knife with Sheath-Camping Knife
Full Tang Bushcraft Tracker Knife with Sheath-Camping Knife
Functional Bushcraft Tracker Knife with Sheath-Camping Knife
A L T E R N A T I V E L Y
Stainless Steel Tactical Tracker Knife with Sheath-Hunting Knife
8Cr13 Steel Tactical Tracker Knife with Sheath-Hunting Knife
Carbon Steel Tactical Tracker Knife with Sheath-Hunting Knife
420J2 Steel Tactical Tracker Knife with Sheath-Hunting Knife
Damascus Steel Tactical Tracker Knife with Sheath-Hunting Knife
D2 Steel Tactical Tracker Knife with Sheath-Hunting Knife
440C Steel Tactical Tracker Knife with Sheath-Hunting Knife
Spring Steel Tactical Tracker Knife with Sheath-Hunting Knife
1095 Tactical Tracker Knife with Sheath-Hunting Knife
High Carbon Steel Tactical Tracker Knife with Sheath-Hunting Knife
Japanese High Carbon Steel Tactical Tracker Knife with Sheath-Hunting Knife
Ultra High Carbon Steel Tactical Tracker Knife with Sheath-Hunting Knife
Japanese SKD11 Steel Tactical Tracker Knife with Sheath-Hunting Knife
Battle Ready Tactical Tracker Knife with Sheath-Hunting Knife
Full Tang Tactical Tracker Knife with Sheath-Hunting Knife
Functional Tactical Tracker Knife with Sheath-Hunting Knife

POLICIES & THEIR LINKS
Shipping & Delivery (www.hsbladesent.com/pages/shipping-delivery-1)
General Instructions (https://www.hsbladesent.com/pages/general-instructions-and-care)
Returns, Exchanges & Refunds (www.hsbladesent.com/pages/returns-exhcanges)
Social Links

Facebook (www.facebook.com/hsbladesent)
Instagram (www.instagram.com/hsbladesent)
Twitter (www.twitter.com/hsbladesent)
Pinterest (www.pinterest.com/hsbladesenterprise)